Inside the Summer Camp for Teens Who Have Lost a Family Member to Terrorism: 'Sometimes It's Just About Listening'
Mijal Tenenbaum was just 3 months old when she lost her father in the 1994 AMIA (Argentine Israeli Mutual Association headquarters) bombing in Argentina.
Growing up, she rarely spoke about losing him. Most of her friends had no idea how he'd even died. "It's not that I was scared to talk about it, but I definitely avoided bringing it up," Tenenbaum, now 21, tells PEOPLE. "It was a part of my life that I tried not to let interfere with my day to day."
But then in July 2010, Tenenbaum met Terry Sears, the executive director ofTuesday's Children, an organization founded to help families that had lost a loved one in the 9/11 attacks. Tuesday's Children had recently developed a program called Project COMMON BOND (PCB), which sought to bring together teens victims of terrorism from across the globe.
While speaking at the anniversary of the AMIA bombing in Argentina, Sears asked if there were any teens in the audience who might be interested in joining PCB in Ireland the following week. Tenenbaum volunteered.
"I didn't really have much time to think about it," she says.
"She basically followed me back on the plane," adds Sears with a laugh.
It's a good thing she did. In Ireland, Tenenbaum met other victims of terrorism for the first time. And in doing so, she learned that she wasn't alone.
"It was a life-changing experience," she says. "I realized that it wasn't just my story, but it was a worldwide issue.
"By acknowledging the effect terrorism had had on my life, I wasn't letting it define me," she says. "It had changed me but that didn't mean that it defined me."
She adds: "It's very empowering to be able to take this experience and transform this into a positive thing. To let myself define my path and what it means to me."
Now, Tenenbaum is one of several young adults who are returning to PCB this week, not as participants, but as group leaders. Together at Bryn Mawr College in Pennsylvania, they'll serve as role models for the newest PCB participants, helping a new generation of teens overcome personal tragedy.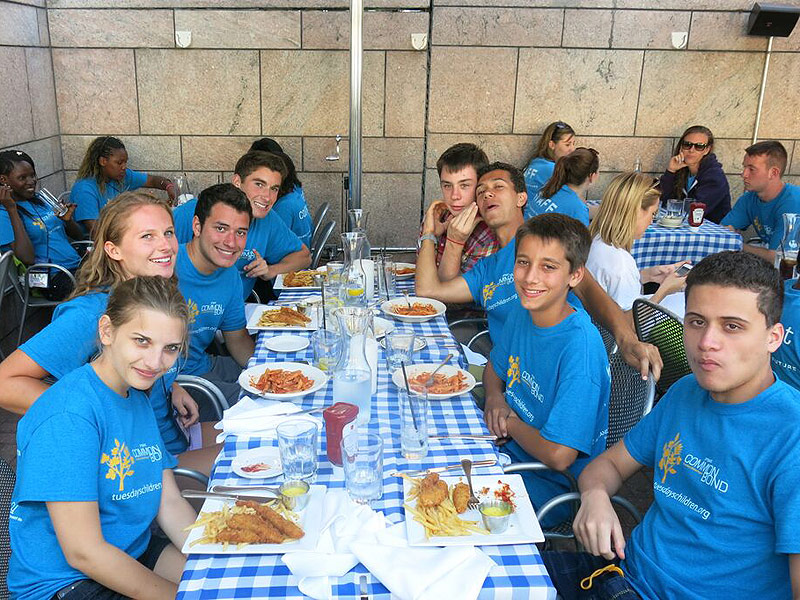 'There Is This Unspoken Bond Immediately'
PCB was first held in 2008 with five countries involved. (There are 12 countries attending this year's symposium.) Inspired by 9/11 children who wanted to create an international community with others who experienced similar loss, the goal of the program is to get teens talking about what they've been through – and to help them learn to live with the pain of losing a family member without letting it overcome them.
"Young males particularly didn't want to talk about what they were feeling," says Sears.
But what's special about PCB is that no one's forced to open up if they don't want to. "They don't have to have these conversations," says Sears. "Sometimes it's just about listening."
For the most part, she says, the teens aren't shy at all. "They come together and there is this unspoken bond immediately," she says, adding that she's seen many lifelong friendships – and even some romances – come out of PCB.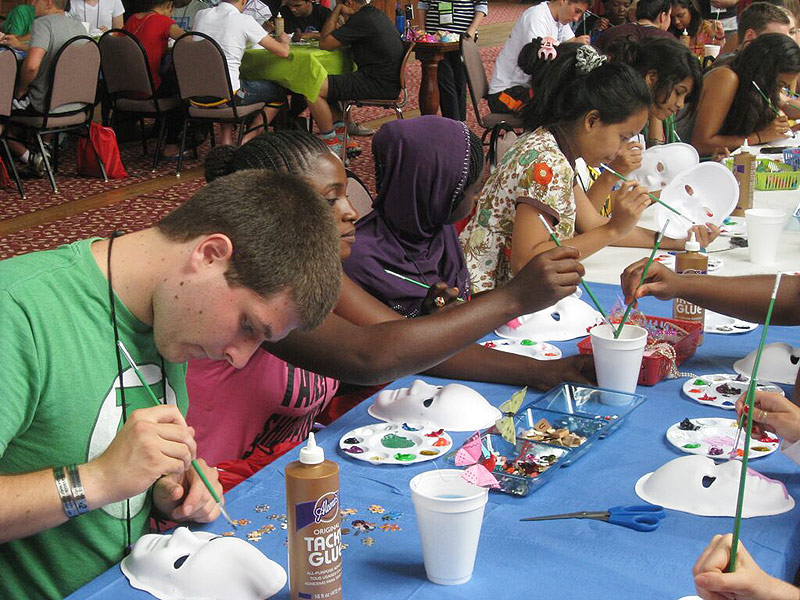 'I Was Just Very Angry'
The chance to meet new people from different backgrounds is Robbie Pycior's favorite part of PCB. "Last year, I played the piano with someone from Kenya who'd never seen a piano before," he says. "After five days, he loved the piano."
He adds: "They're friendships that last a lifetime that you'd be hard-pressed to find elsewhere."
Like Tenenbaum, 22-year-old Pycior is returning to PCB this year as a group leader. Since he first attended PCB in Ireland in 2010, he says he's grown tremendously as a person.
"My father was killed in the Pentagon on September 11, 2001," Pycior explains. "I wasn't angry at a certain group, but I was just very angry in general. It's been a relief to see that other people have experienced that anger as well."
Now, he's learned to channel that anger away from groups of people and towards individuals.
"There are bad people that are Jewish, Muslim, Christian, white, black, doesn't matter," he says. "But there are also good people. Being able to realize that is important."
He adds: "Playing Frisbee with an Israeli and a Palestinian is just amazing. Seeing that they can be in the same place together, that they're both willing to come to PCB, it made me realize that there are bad people, but there are good people too. "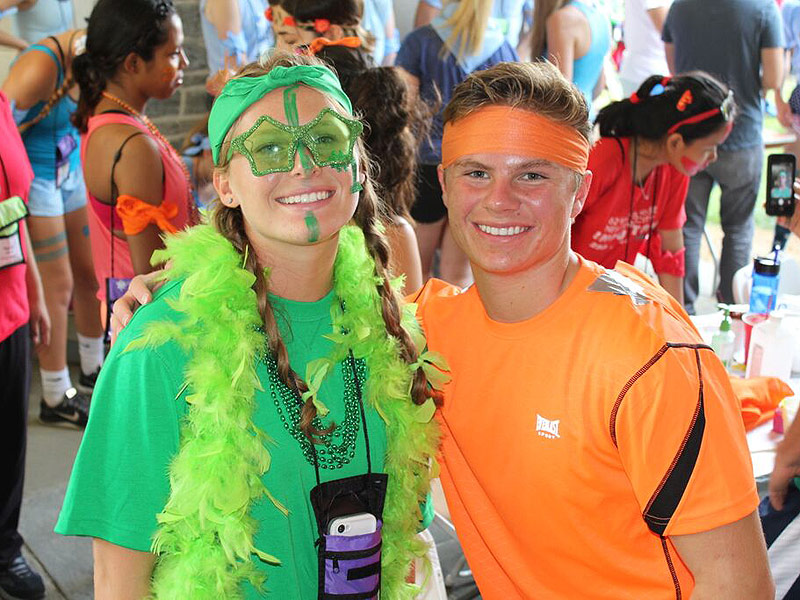 'You Don't Have That Awkward Moment'
It's Jess Wisniewski's sixth year returning to PCB. She's witnessed countless teens come out of their shells, and as a group leader this week, she's eager to take on the role of a mentor.
"It's really, really rewarding," says the 20-year-old, who lost her dad on 9/11, just a month before her seventh birthday. "In real life, it's so difficult to talk about. But at PCB, you want to talk about it instead of being pressured into talking about it. You don't have that awkward moment."
And if her kids learn one thing this week, she hopes it's that they know they have everyone's support. "It really is a family," she says of PCB, "a group of people you can reach out to at any point."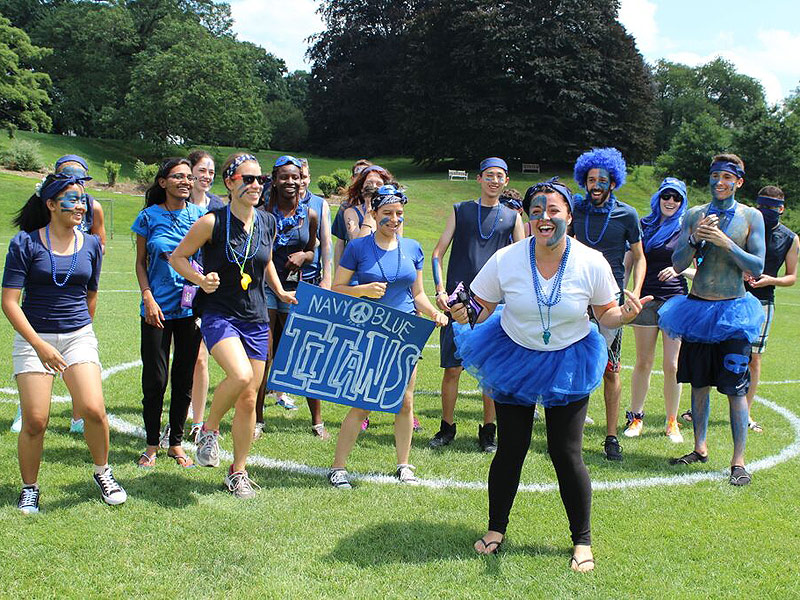 'I Didn't Really Think I Wanted to Talk About It'
Francesca Picerno, another veteran camper who's returning as a group leader this week, looks forward to helping teens open up. "I've seen all the international kids who participate and they come closed off, but they open up by the end of the week," she says. "I want to be a part of that."
Picerno, 22, also lost her father on 9/11. She says she was nervous to come to PCB for the first time, but now credits it with "shaping the person" that she's become.
"When I first went, I was very angry," she says. "I had no closure and I didn't think I'd ever get any. I was a very troubled teenager. Seeing how somebody else felt the same way that I did surprised me."
Picerno can't wait to see teens have the same experience she did. "It's really cool to see how you can connect with someone who doesn't even speak the same language," she says.
She continues: "I didn't really think I wanted to talk about it. I was really, really wrong."
Project COMMON BOND runs from July 26 to Aug. 3 at Bryn Mawr College in Pennsylvania. You can donate to Tuesday's Children here.
https://www.tuesdayschildren.org/wp-content/uploads/TC-UPDATED-LOGO.svg
0
0
Leanna Annunziato
https://www.tuesdayschildren.org/wp-content/uploads/TC-UPDATED-LOGO.svg
Leanna Annunziato
2015-08-31 18:38:22
2021-06-29 14:09:10
Inside the Summer Camp for Teens Who Have Lost a Family Member to Terrorism: 'Sometimes It's Just About Listening'