Tuesday's Children in the News
9/11 Kids Help Others, Rebuild Community
Loriana Hernandez
FOX 7 News Austin
February 23, 2012
As a city rebuilds after the worst terror attack in U.S. history, some of September 11's youngest victims are doing the same, one community project at a time. On this day it's in Austin, building homes for Habitat for Humanity.
"It's hard today and it's 10 years later, it never fully goes away," said 19-year-old Francesca Picerno, who lost her father Matthew on 9/11.

It's the same for Kathryn Grazioso.
"I lost my father and my uncle, and they both worked at Cantor-Fitzgerald together."
On this day the girls joined 20 others, all who share a common bond.
"When we need to we just vent to each other about it because we know we understand," said Picerno.
It's all possible through a non-profit aimed at healing victims of terrorism.

In 2002, Tuesday's Children was founded so that every child who lost a parent on 9/11 would have some sort of support system. Nine years later these same kids are traveling all over the world to help others.
Their chaperones also have a story. Margaret Iskyan lost her husband that Tuesday morning.
"We had just celebrated our 16th wedding anniversary on September 7," said Iskyan.
She joined Tuesday's children, she says, because she didn't want her kids to feel like victims.
"I wanted them to realize that awful things happen, but look at all the wonderful things that came back to us from all over the world quite frankly," said Iskyan.
It's a way to move forward, she says, while remembering their loved ones.
Their hard work in Austin is also making a huge difference for habitat for humanity. The work completed by these teens in 3 days puts the construction weeks ahead of schedule.

"People helped me when I didn't ask for it so I'd like to give it back and help everybody else as well," said Grazioso.
Remembering 9/11: Letters to Loved Ones Lost
By Dave Delozier
NBC Channel 9 News
September 6, 2011
NEW YORK - The terror attacks on Sept. 11, 2001 claimed the lives of nearly 3,000 people, but touched the lives of many more. The individuals who died that day were mothers, fathers, sisters, brothers, aunts and uncles who left behind family members. The suddenness of their deaths left most without an opportunity to offer any final words.
On the pages of a book, "The Legacy Letters," they are getting that chance.
"They're inspirational. They're heartbreaking. But most importantly, they're a healing moment for these families," Sara Wingerath, director of family programming for Tuesday's Children, said.
Tuesday's Children is a nonprofit organization created to support the families who lost loved ones on the day of the attacks, which was a Tuesday.
"We provide them with opportunities to come together, whether they be weeklong programs or afternoon programs, the opportunities to collaborate with one another, support one another, share stories and share hugs," Wingerath said.
Richard was only 2 years old when he lost his father, Weibin Wang who was working on the 103rd floor of the North Tower of the World Trade Center at the time of the attacks. The loss was impossible for Richard to comprehend.
"I always thought Dad would come home," Richard said.
"It was so hard for Richard to finally grasp the idea of what happened. He struggled for so many years asking, 'What happened to my dad?' 'Why I have no dad?'" Wen Shi, Richard's mother, said.
While she struggled to deal with the loss of her husband, she tried to find a way to explain to her three children what had happened to their father.
"I mean, how do you explain to my kids what happened?" Shi said.
Tuesday's Children helped. They provided an understanding of the different ways that children grieve. They provided support to the families and brought them together.
"There are so many kids together in the same situation, so they feel like when they are there at Tuesday's Children organization, they are not alone," Shi said. "From day one, they were there for us and they have been there all along."
Tuesday's Children also provides mentors for children who lost a parent. The mentor can never replace the lost parent, but they can provide a role model, a friend, an ear to listen and in the case of Richard, a chance to remember.
"Often when I think about my dad, sometimes my mentor comes to mind. It is like a parent to me," Richard said.
Richard, who is now 12 years old, is able to put into words his feeling for his father and his loss. His letter is one of 100 that is part of "The Legacy Letters." Richard says writing his letter proved to be therapeutic.
"It helps me remember as I wrote, so it helps me write the next sentence," Richard said.
Tuesday's Children has worked with 6,000 individuals in the wake of the 9/11 attacks. It has pledged to support the children until they are at least 18 years of age. According to Tuesday's Children, it is estimated 110 women were pregnant on 9/11 and lost a spouse. Simple math tells you the organization has at least eight more years of work ahead of it.
If you are interested in getting more information about Tuesday's Children, go to their website at www.tuesdayschildren.org.
The book, "The Legacy Letters," is available at major books stores and online.
Widows Had No Choice but to Carry On Alone
By Joanna Molloy
Daily News
September 9, 2011
Julia Xanthos/ News Elizabeth Candela with children John and Juliette.
Maureen Dominguez's youngest was 9 months old when her husband Carlos, 34, died at Marsh & McLennan on 9/11, his second day on the job.
Marie Anaya was left with an 18-month-old, a 5-year-old and a 7-year-old when her husband, Firefighter Calixto (Charlie) Anaya of Engine 4 died in the rubble at age 35.
Elizabeth Candela's children were 4 and 7 when her husband, John, a 42-year-old trader at Cantor Fitzgerald, died there on the 104th floor.
They, and hundreds of 9/11 widows like them, had no choice but to carry on alone, to feed, dress and nurture their children.
"There's no pity party here," Candela said. "I tell my kids, these people wanted to destroy us ... We can't let them destroy us. We have to go forward."
"I have to be the greatest actress in the world," Anaya said. "First I have to convince myself, then I can convince the kids. Because when mom's happy, everybody's happy."
"I was frozen for a couple of years, but then I saw things with new eyes," Dominguez said. "You have to shift how you tackle problems."
These women and 350 others like them say they have gained new life skills through the Creative Insights program at Tuesday's Children, a leading 9/11 family support organization.
"This course was actually originally designed for MBA students ... because if you're going to turn a business around, you have to think creatively," said Julia Romaine, who has run the two-month groups over the past nine years with Stillpoint Consulting partner Athena Katsaros.
It's the same with spouses and other relatives trying to cope with such enormous loss.
"We're all born with so much creativity," Romaine said. "It gets covered up by well-intentioned parents, teachers and clergy who tell you to 'color within the lines.'
"We try to help everyone reclaim their creative potential ... For some, it might mean just putting a meal on the table. For others, it might mean planning a family vacation. For still others, it might mean getting a job, or a new job, or going back to school.
"It's not therapy. Therapy is analyzing the past. We are future-oriented. One woman said, 'My therapist told me to make myself my priority, but nobody told me how.' We give them tools."
One tool that helped author and 9/11 widow Abigail Carter is "Have no expectations." Carter began her book, "The Alchemy of Loss: A Young Widow's Transformation" at Creative Insights.
"When I used to think about going to a party, I would say to myself, you're going to be by yourself, and everybody else is going to be couples, and you're going to have a miserable time. That's an expectation of something awful, but if you have no expectations, you go, and you talk to people and maybe even make friends," she says.
"It's about living your passion," Romaine added. "It's different for everyone. Maybe someone wants to have a wonderful garden. Another wants to learn to sail a boat. Or just have great conversations with your child."
And maybe, having a relationship again.
"That's a biggie," said Eileen Lynch, whose husband Farrell died on 9/11 and went from being one of the first participants in Creative Insights to becoming a facilitator herself. Lynch says participants have told her they have said to themselves,
"You are so selfish. How could you possibly go out on a date when your husband is gone?"
Anaya lives in a small town, where someone once cruelly told her the money she got from the September 11th Victims Compensation Fund "must be nice."
Anaya worried at first what people might say if she started dating again.
"People want you to wear your widow's hat forever," Anaya said. "It took me 10 years to have a relationship with a man who I brought home to get to know my kids. It's good for them to and to see how to treat a partner well, and to be treated well.
"Who's going to teach my son a sport? I need him to teach him how to be a man. It's good to have male testosterone around the house."
"One of the tools they gave us is 'put-ups,' or taming that inner voice of judgment," Candela said. "I was constantly putting myself down: 'My hair's a mess,' 'These pants are too tight,' things like that. Creative Insights says for every putdown, give yourself two 'put-ups' " - compliments. "It gives you confidence to accomplish little goals."
Like getting a master's in biology and becoming a science teacher. Then going back to school again to study sports nutrition. And running half marathons in six states to raise money for Tuesday's Children. And writing the blog Halfcrazedrunner.
All of which Candela, 46, has done since first going to Creative Insights for help.
"When the children were little, and would ask where Daddy was, I would tell them he was in heaven," Candela said. "And they would ask, 'Where's heaven, Mommy?' And I would say, 'it's here, it's all around us. It's just another dimension of here.' I really don't feel John has ever left us.
"We didn't really move on and leave someone behind. We just moved forward."
Grief and Love in Yankee Stadium
By Mary Ormsby
Toronto Star
Sep 11, 2011
The voices inside Yankee Stadium began to swell, a blend of empathy and pride that, for a moment, caused the 10-year-old boy they were cheering to lower his head.
The stadium's enormous electronic screen was telling the crowd about Robert Spencer, chosen to throw out the first pitch in July as part of the Yankees' HOPE Week — the ball club's tribute to victims of the 9/11 attacks. Robert was an infant when his father, also named Robert, was killed in the World Trade Center's North Tower.
Geoffrey Robson was standing beside Robert in front of the Yankee dugout and noticed the boy's solemn mood as he prepared to escort him to the mound. The 32-year-old executive board member of Tuesday's Children — a not-for-profit organization that pledges long-term support for the children of 9/11 families — knew instinctively what the child was feeling.
"I looked down at Robert and he was looking at his feet," recalls Robson. "He was thinking, 'All this is for me and I don't deserve it.' I could just tell that's what he was thinking because I've been there.''
Robson's father, Donald, a transplanted Torontonian living in New York, was also killed on Sept. 11, at the age of 52. Until the Yankees' screen broadcast Robert's background to the crowd, Geoffrey Robson hadn't realized both their fathers worked for international bond firm Cantor Fitzgerald.
"They lost everybody that day," Robson notes of the 658 Cantor Fitzgerald employees killed, the single worst loss of life for any company on 9/11.
But the memories of Donald Robson were not lost.
The bond broker had met and married Katherine, a native of Manhasset, N.Y., while he worked in Toronto. The young couple lived in Toronto, where their first son, Geoffrey, was born. When the boy was 3, Donald was hired by Cantor Fitzgerald in New York City. A second son, Scott, arrived soon after.
Donald Robson loved his adopted country as much as his home and native land. On a tall pole rising from the family's Manhasset front yard, the flags that fluttered displayed three of his great passions: Old Glory, the iconic Maple Leaf and the Toronto Blue Jays. In a neighbourhood full of Yankee faithful, Robson's buddies sometimes swiped the Blue Jay banner as a gag. The Canadian always found that funny, his son recalled.
The last time Geoffrey Robson spoke to his dad was by phone on Sept. 8, 2001. The younger man was celebrating his 22nd birthday, and they chatted about his life at college in Delaware, which Donald loved to hear about. They ended the call by saying they loved each other.
"It's not like we knew it was going to be our last conversation, but I'm glad those were the last words we said to each other," says Robson, now married and working in New York for commercial real estate firm CB Richard Ellis.
One of Donald Robson's favourite sayings was, "At the end of the day, all you have is your name," his son recalls.
"What I take away from that is nothing is worth tarnishing your integrity for — and that's one of the most important (lessons) I carry with me, and I actually repeat it to people.
"I did get to hear his voice, and I had him in my corner," Robson continues. "He was my best friend. A lot of these younger kids didn't have that at all, so being able to even share with them some of the things my dad said is incredibly rewarding."
His father's influence is one of the reasons the younger Robson began working with Tuesday's Children several years ago — and why he instinctively knelt to tell little Robert Spencer that, he, too, lost his father at Cantor Fitzgerald on that awful day in September.
"He hadn't known," Robson says of the dark-haired boy in the Yankees cap, and wearing orange sandals. "He probably just looked at me like I was an old man, but I saw in his eyes he was shocked."
Then, something beautiful.
"As we were walking towards the mound, he grabbed my forearm, and that was a moment that pretty much erased everyone else in the stadium for me.
"I felt, I really felt, like I was walking out there with just him and both our dads. It was incredible."
Yankees HOPE Week Makes Big Splash:
It was water balloons and baseball memories for a crew of kids affected by 9/11
By Kieran Darcy
ESPNNewYork.com
July 28, 2011
NEW YORK -- Most of the 46,132 people at Yankee Stadium on Tuesday will remember it as the day CC Sabathia struck out 14 Mariners and flirted with perfection.
I will remember it as the day I witnessed a world-class water balloon fight, and got to feel like a kid again.
For that, I owe a big thanks to my good pal Brendan, and to an organization called Tuesday's Children.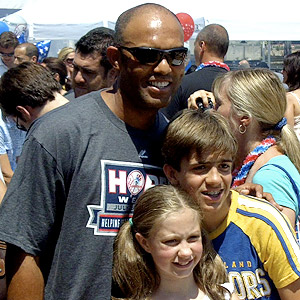 Kieran Darcy Brendan posing with his sister Caralyn and Mariano Rivera.
Tuesday's Children was founded in 2002, a year after the terrorist attacks of Sept. 11, 2001. Its primary goal is to match children who lost a parent or other close relative that day with an adult mentor to spend time with and (hopefully) heal a little bit with.
Two-and-a-half years ago, I was paired up with Brendan, who was just 2 years old when he tragically lost his father at the World Trade Center on 9/11. He's a wonderful young man, and it has been such a pleasure getting to know him and developing a relationship with him the past couple of years.
Normally when we hang out, we'll go to the park to play basketball -- or he will embarrass me in the latest Nintendo Wii or Xbox 360 game he has picked up. But on Tuesday, we, along with several other Tuesday's Children pairs, got to participate in a very special event as part of the Yankees' third annual HOPE Week.
The day started with a surprise party at the South Street Seaport in lower Manhattan -- with special guests Mariano Rivera, Curtis Granderson, Phil Hughes, Luis Ayala, Cory Wade and Steve Garrison, along with former manager Joe Torre. The Yankees signed autographs, posed for the pictures with the kids and even engaged in a couple games of ping pong.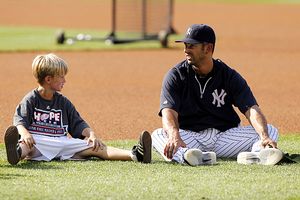 Michael L. Stein/US Presswire Stretching with Jorge Posada before the game.
Then things really got interesting. After taking a big group photo that included all the Yankees and all the children, water balloons were distributed to everyone. Now, I had seen the buckets of water balloons earlier and (naturally?) assumed we were going to play a harmless game of water balloon toss -- you know, to see which pair could toss and catch the balloon the longest without breaking it?
Well, was I wrong. Suddenly the balloons were flying through the air at high speeds and in all directions -- kids hurling them at the players and vice versa. I stayed out of the fray, figuring the last thing I needed was to be known as the sports writer who sent a Yankees player to the disabled list with a flying water balloon. But I watched with glee the utter free-for-all that ensued.
Next thing I knew, Rivera was jokingly using a young girl as a shield, before getting drilled in the left shoulder from point-blank range. Hughes was sneaking up on a teammate, Wade, before dumping a bucket of ice water over his head. And Granderson was being chased in circles by a gaggle of screaming children.
You couldn't help but wonder, if the Yankees' trainers were here watching this, would they be laughing, or cringing? But trust me, it was hilarious.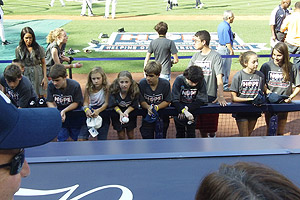 Kieran Darcy The crew hanging out on the dugout rail.
"That was awesome," Brendan told me later. "I couldn't believe they were playing with us like that."
Next we took a water taxi ride, piloted by the Yankees' closer himself. (Just kidding -- but Rivera sounded as if he wanted to when he told the kids how they'd be traveling to the game. "I'll be the driver, the captain," Rivera said. "I can close this. Believe me.")
We sailed first down to the Statue of Liberty, then all the way up to Yankee Stadium. We were given a tour of Monument Park and the Yankees Museum. Then the kids were invited onto the field for pregame warm-ups and batting practice.
One of the drawbacks to being a professional sports writer is being on the field for batting practice isn't nearly as exciting as you might think it would be. Do it enough and it becomes old-hat, even boring; after a while, you lose your sense of awe and wonder. But on Tuesday I got to see the experience through fresh eyes, watching Brendan and his buddies racing from player to player to get their ball or hat signed.
And then I saw something I'd never seen before. When the Yankees moved to the outfield to do their pregame stretching, manager Joe Girardi brought the children along with them. Suddenly, the kids were side by side with the players, doing leg bends, running sprints and high-fiving them at the end of it all.
It was enough to make the most jaded sports writer a little misty-eyed.
At that point, the day was made, as far as I was concerned -- and I don't think I was alone. But we still had a baseball game to enjoy. The crew from Tuesday's Children settled into their seats in Section 122. The icing on the cake? We got to watch one of the most dominant pitching performances, over seven innings anyway, that you will ever see.
Yet, on the train ride home, as Brendan and I reminisced about the day and discussed our favorite moments, we weren't talking about Sabathia, despite how wonderfully he performed.
No, we were talking about flying water balloons.
It was ... well, it was almost perfect.
<< Start < Prev 1 2

3

4 5 6 7 8 9 Next > End >>


Page 3 of 9